What is KINGDOM Living? (Part 5)
In "What is KINGDOM Living? (Part 5), Spiritual Formation is a transformation journey from being enemies of God to friends of God, from slavery to sin to the freedom of grace. SPIRITUAL FORMATION is not about us but God's great name, KINGDOM, and righteousness. Through grace, believers are made RIGHTEOUS, and our purpose is to shine forth God's glory, embodying self-giving love.
"until we all attain to the unity of the faith, and of the knowledge of the Son of God, to a mature man, to the measure of the stature which belongs to the fullness of Christ." Ephesians 4:13
---
SPIRITUAL FORMATION is a celebration of the profound mystery of Jesus revealed through grace, leading to a deep communion with God and a life lived in truth and love, transcending the limitations of SELF to become ambassadors of His grace and co-creators in His KINGDOM.
"Therefore leaving the elementary teaching about the Christ, let us press on to maturity, not laying again a foundation of repentance from dead works and of faith toward God," Hebrews 6:1
Spiritual Formation is THE process of BEING EMPOWERED and EQUIPPED internally, from the inside out, through the Grace of God.
"My children, with whom I am again in labor until Christ is formed in you—" Galatians 4:19
SPIRITUAL FORMATION means we are FRIENDS with God.
"No longer do I call you slaves, for the slave does not know what his master is doing; but I have called you friends, for all things that I have heard from My Father I have made known to you." John 15:15
This article represents one post in a series of articles attempting to answer "What is KINGDOM Living?" For a deeper understanding of this article, consider visiting "What is KINGDOM Living Part 1," "Part 2," "Part 3," and "Part 4."
Spiritual Formation means that everything we do, OUR MISSION, and our purpose is for HIS Great NAME SAKE.
"and you have perseverance and have endured for My name's sake, and have not grown weary." Revelations 23:3
Spiritual Formation is to KNOW and BELIEVE we have been made ONE with God, are now ALIGNED with TRUTH, and are IN TRUTH. Truth never leaves us or departs from us.
"yet for us there is but one God, the Father, from whom are all things and we exist for Him; and one Lord, Jesus Christ, by whom are all things, and we exist through Him." 1 Corinthians 8:6
Spiritual Formation is to KNOW that Jesus is always with us, in us, and we NOW live in and from the Father's Heart of LOVE. We don't go in and out; we are ONE WITH THE FATHER as His forever Children. IT IS FINISHED.
"one Lord, one faith, one baptism, one God and Father of all who is over all and through all and in all." Ephesians 4:5-6
Through Spiritual Formation, we went from ENEMIES of God to FRIENDS with God.
"For if while we were enemies we were reconciled to God through the death of His Son, much more, having been reconciled, we shall be saved by His life." Romans 5:10
Through the Blood of Jesus Christ, through His sufferings bearing the Cross, We are ALL ONE with God, Holy, made RIGHTEOUS. By Grace, we have PEACE with God. This truth is SPIRITUAL FORMATION if you believe and receive.
"and the Scripture was fulfilled which says, "And Abraham believed God, and it was reckoned to him as righteousness," and he was called the friend of God." James 2:23
And,
"And although you were formerly alienated and hostile in mind, engaged in evil deeds, yet He has now reconciled you in His fleshly body through death, in order to present you before Him holy and blameless and beyond reproach— " Colossians 1:21-22
Because of HIS GREAT LOVE FOR US, we are propelled to become LOVE through humble obedience to this TRUTH.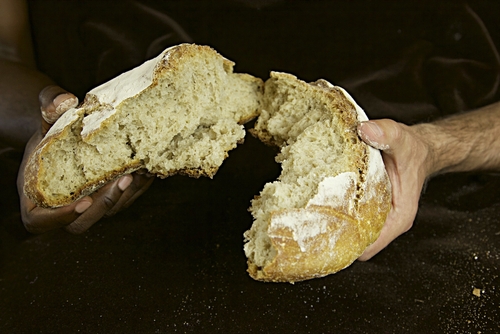 "Grace, mercy and peace will be with us, from God the Father and from Jesus Christ, the Son of the Father, in truth and love." 2 John 1:3
God the Father, the Son, and the Holy Spirit are ALWAYS WITH US, IN US, and they NEVER LEAVE, EVER!
"For all who are being led by the Spirit of God, these are sons of God. For you have not received a spirit of slavery leading to fear again, but you have received a spirit of adoption as sons by which we cry out, "Abba! Father!" The Spirit Himself testifies with our spirit that we are children of God, and if children, heirs also, heirs of God and fellow heirs with Christ, if indeed we suffer with Him so that we may also be glorified with Him." Romans 8:14-17
Although each of us is unique, we are all one in Christ. We are Christ's, and He is transforming us as we co-operate with the Word, with TRUTH, by Grace.
"But we all, with unveiled face, beholding as in a mirror the glory of the Lord, are being transformed into the same image from glory to glory, just as from the Lord, the Spirit." 2 Corinthians 3:18
By Grace, we went from enemies to Sons and Daughters. That is Spiritual Formation, and HE DID IT. Our job is to believe, receive, and walk it out. Our job is to rejoice and celebrate our NEW LIFE IN CHRIST. As we do, we become His SHINING LIGHTS and shine forth His great name into the Darkness, overtaking and defeating darkness.
"Rejoice always; pray without ceasing; in everything give thanks; for this is God's will for you in Christ Jesus." 1 Thessalonians 5:16-18
God's life in Christ is a gift of His love through Grace. We can never earn it or deserve it. There is no performance on our part. Spiritual Formation is on Jesus; it's His pleasure. We wait patiently for His whole life, fully transformed into His image and likeness, self-giving love through radical generosity.
"For those whom He foreknew, He also predestined to become conformed to the image of His Son, so that He would be the firstborn among many brethren;" Romans 8:29
Spiritual Formation happens when we keep our eyes on Christ, who is above AND IN US. Always focus on the fact He is with us and in us and never leaves.
"And do not be conformed to this world, but be transformed by the renewing of your mind, so that you may prove what the will of God is, that which is good and acceptable and perfect." Romans 12:2
Spiritual Formation happens when we see the greatness of God's goodness, it's never-ending and always available. Spiritual Formation happens when we realize it is God's delight to shine through us!
"For God, who said, "Light shall shine out of darkness," is the One who has shone in our hearts to give the Light of the knowledge of the glory of God in the face of Christ." 2 Corinthians 4:6
Spiritual Formation is to know we can't do it, but HE DID. Spiritual Formation is to know we are no longer slaves to sin.
"knowing this, that our old self was crucified with Him, in order that our body of sin might be done away with, so that we would no longer be slaves to sin;" Romans 6:6
Spiritual Formation is to know there is peace between Heaven and Earth, God and Humanity, and HIS GRACE is the source of our NEW LIFE IN CHRIST.
"Therefore if anyone is in Christ, he is a new creature; the old things passed away; behold, new things have come." 2 Corinthians 5:17
Please continue to "Next Page," below, for THE BEST IS YET TO COME!